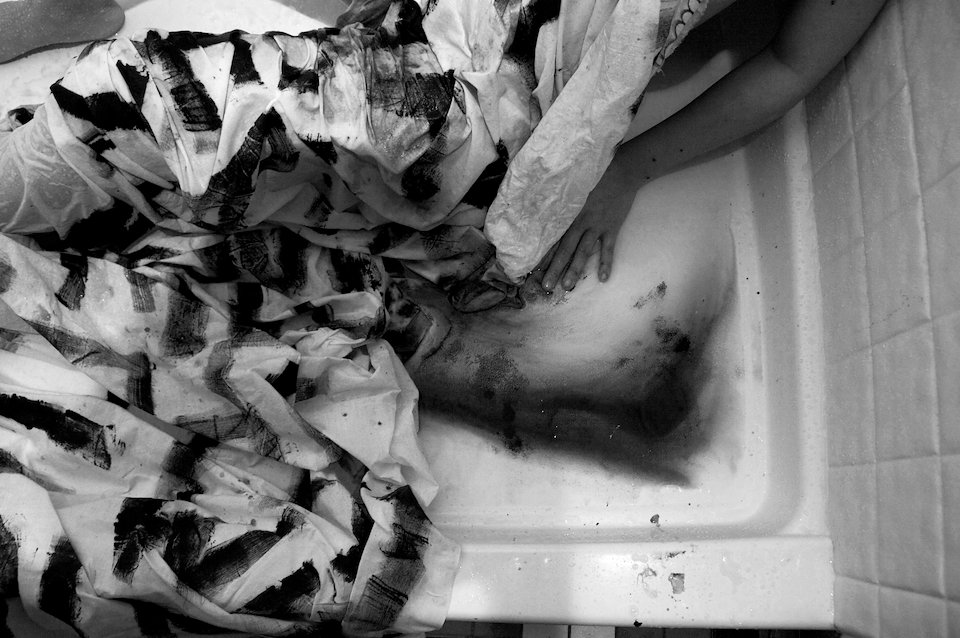 I used this fabric piece as a diary and exposed it to the elements.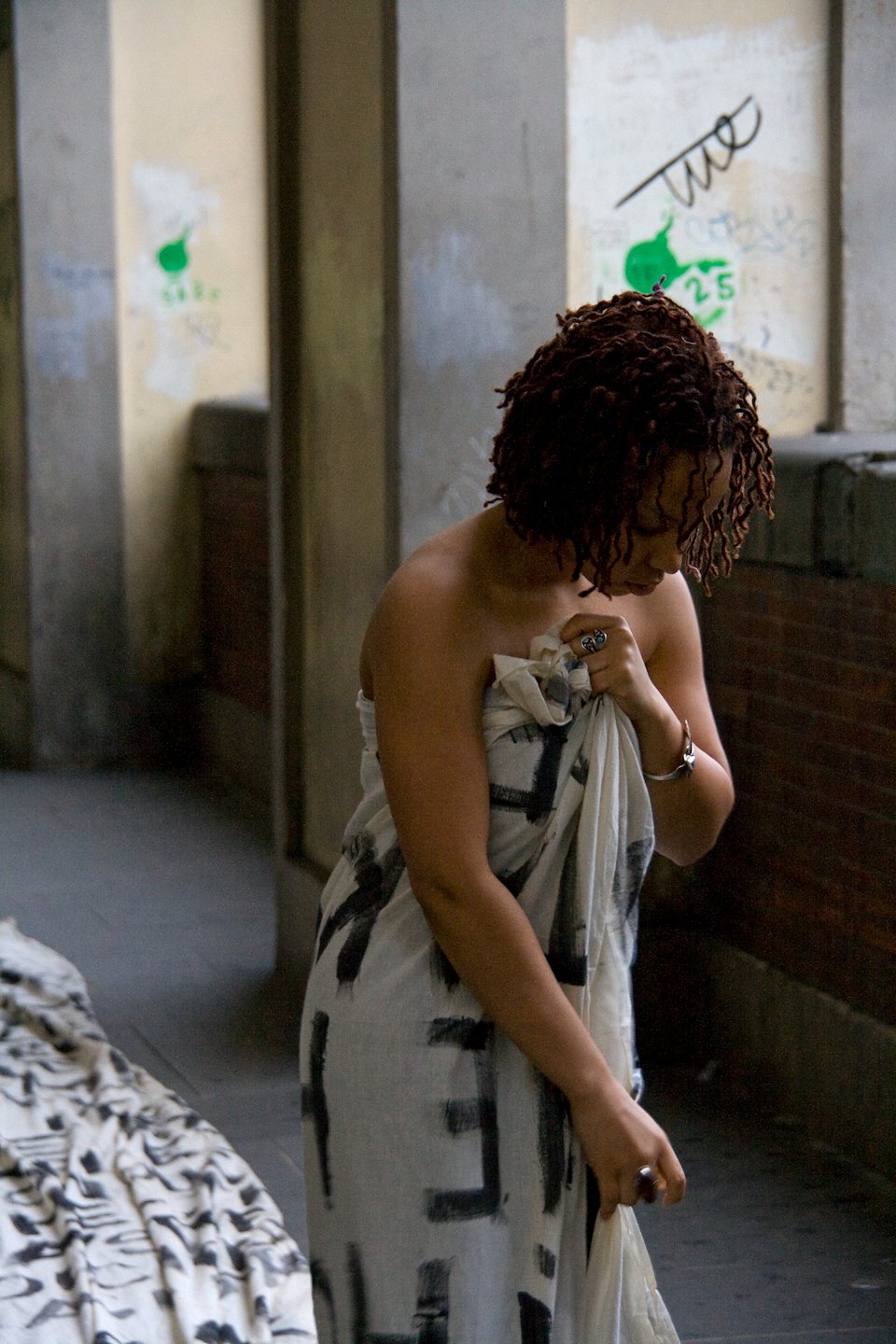 (11"X14" Silver gelatin print)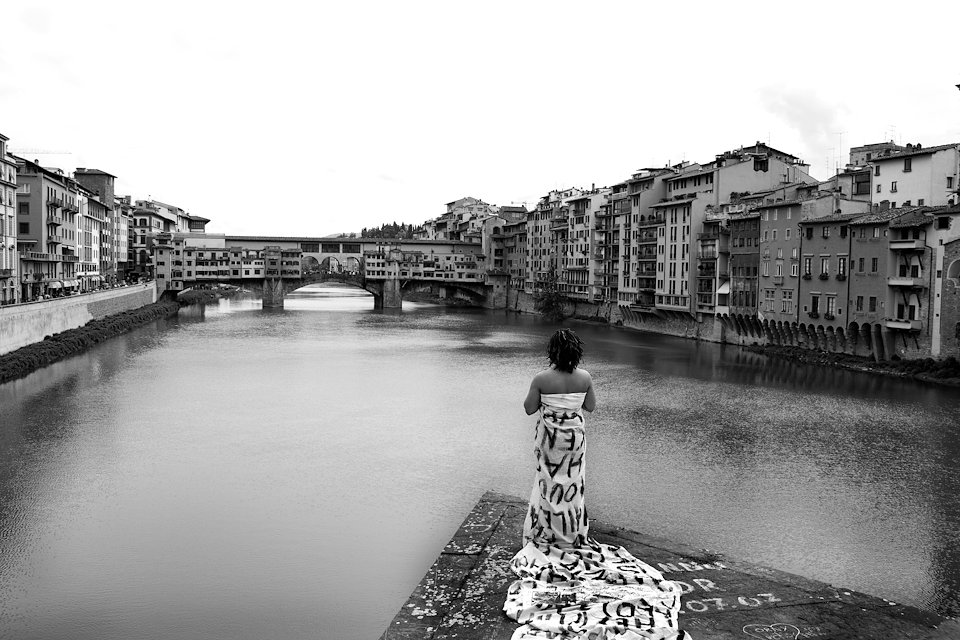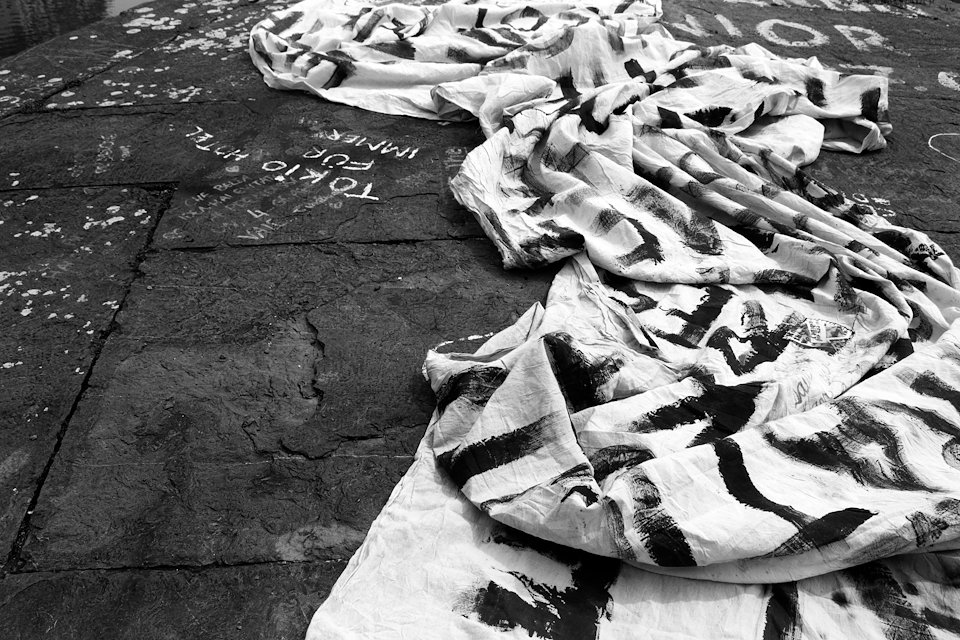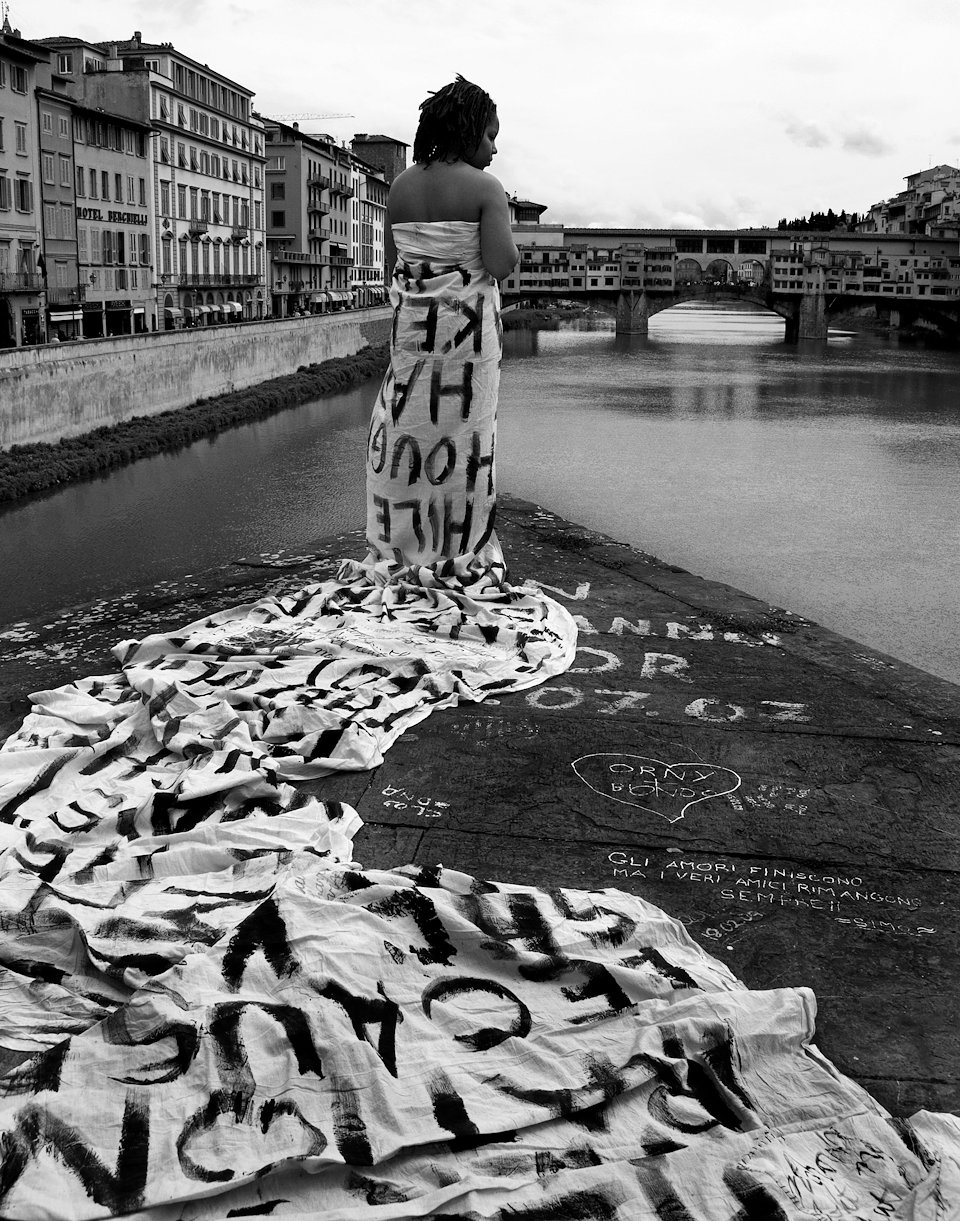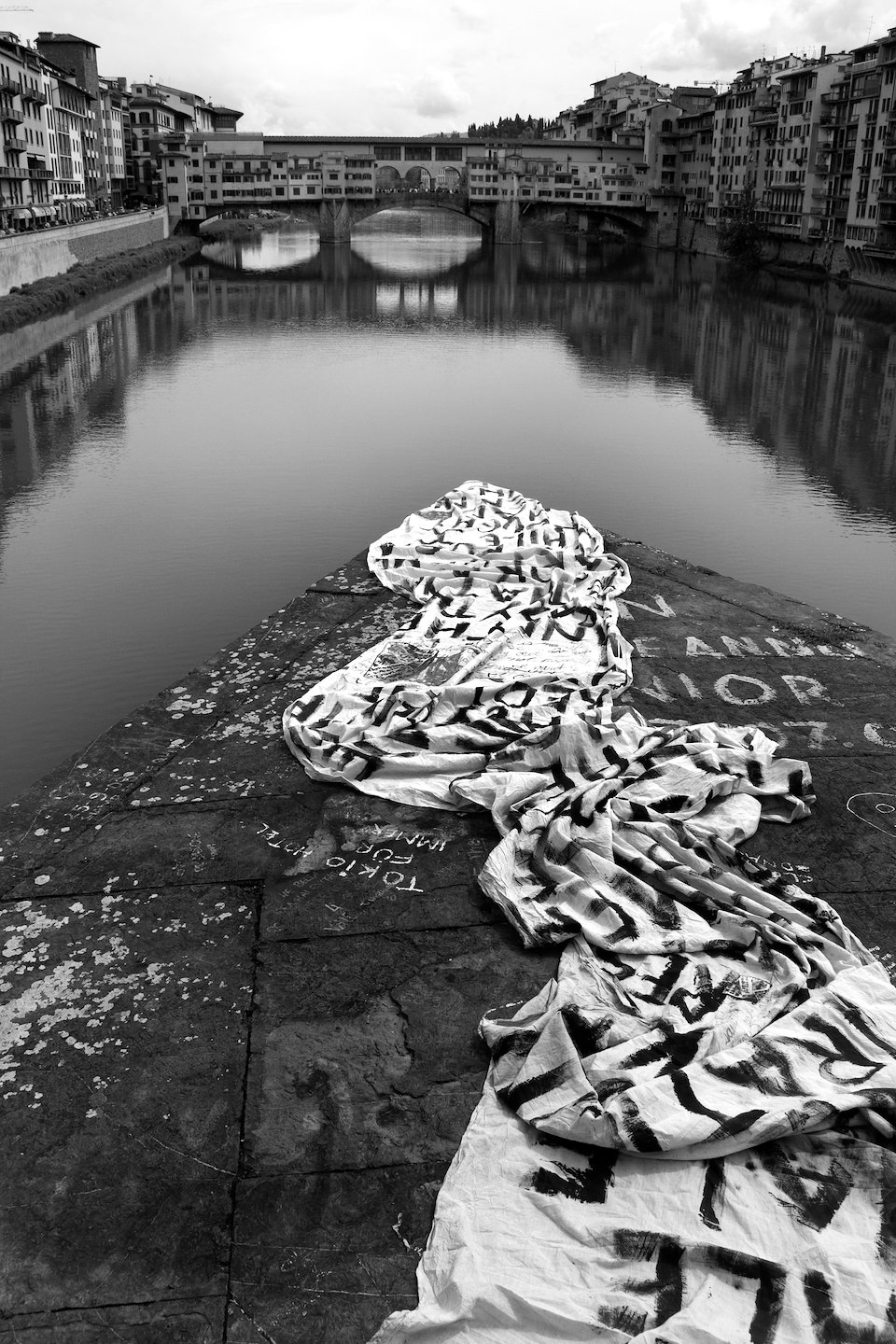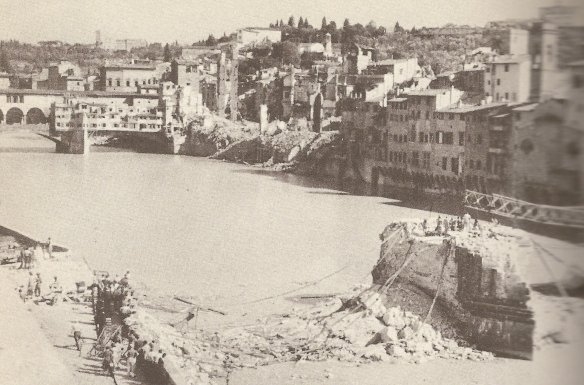 The Ponte Santa Trinita, in 1944 after being bombed by German troops. This is the bridge I am pictured standing on.
And She, Bearing Her Words--Chapter 4, Verse 20
"And She Bearing Her Words–Chapter 4, Verse 20"
Performance, Fibers (Mixed Media) & Photography
September 2008 – April 2009
"And She Bearing Her Words" is a project that spanned a series of months, in which I created a 30ft long fabric piece that served as a diary for me. The fabric piece evolved as I evolved. I traveled from Baltimore to Florence, Italy to study for four months. This was a very challenging shift for me. Not only was Florence completely different from anywhere I had lived prior, but I was also one of only about three African American women in the entirety of the city. I spent a lot of time alone and in silence. This experience bought to question many aspects of my personality. It was trying, but in many ways it was also immensely beautiful.
Dressed only in my fabric piece, I walked the streets in my words on my last day in Florence. This fabric piece had been exposed to the elements, torn, written on, painted, stitched, collaged, dragged and touched by the Florentine rain storms. I walked through now familiar corridors and across cobble stone streets, to ultimately climb over the Ponte Santa Trinita Bridge, meaning Holy Trinity Bridge. This was the bridge overlooking the Ponte Vecchio, the oldest bridge in Florence. Both of these bridges were integral parts of the medieval street plans of Florence.
The Ponte Santa Trinita was a bridge that had been destroyed more than four times by flooding and blown up by German troops; after which fragments were recovered from the river bottom and the bridge was reassembled in 1958. With it's wedge shaped supports (perfect for climbing) the bridge is adorned with sculptures representing the four seasons. So, on the fourth month of the year, twentieth day of the month, I chose to honor MY Holy Trinity (body, mind, spirit & the threefold nature of feminine evolution) within the natural cycle of the four seasons. As the shift of moving to this city totally deconstructed and rebuilt my interior landscape, it felt right to reflect on this journey while standing on the edge of a bridge that had endured it all.
With a crowd forming behind me, I reflected on this journey. Standing there, in that moment, draped in my thoughts, prayers and experiences. I felt strong, I felt empowered, I felt vulnerable and I felt fearless, simultaneously. I am fully present in that moment as I stand, on a pillar, off the edge of a bridge, overlooking one of the only remaining medieval bridges in the world, in a city that had been a (once unlikely) home.