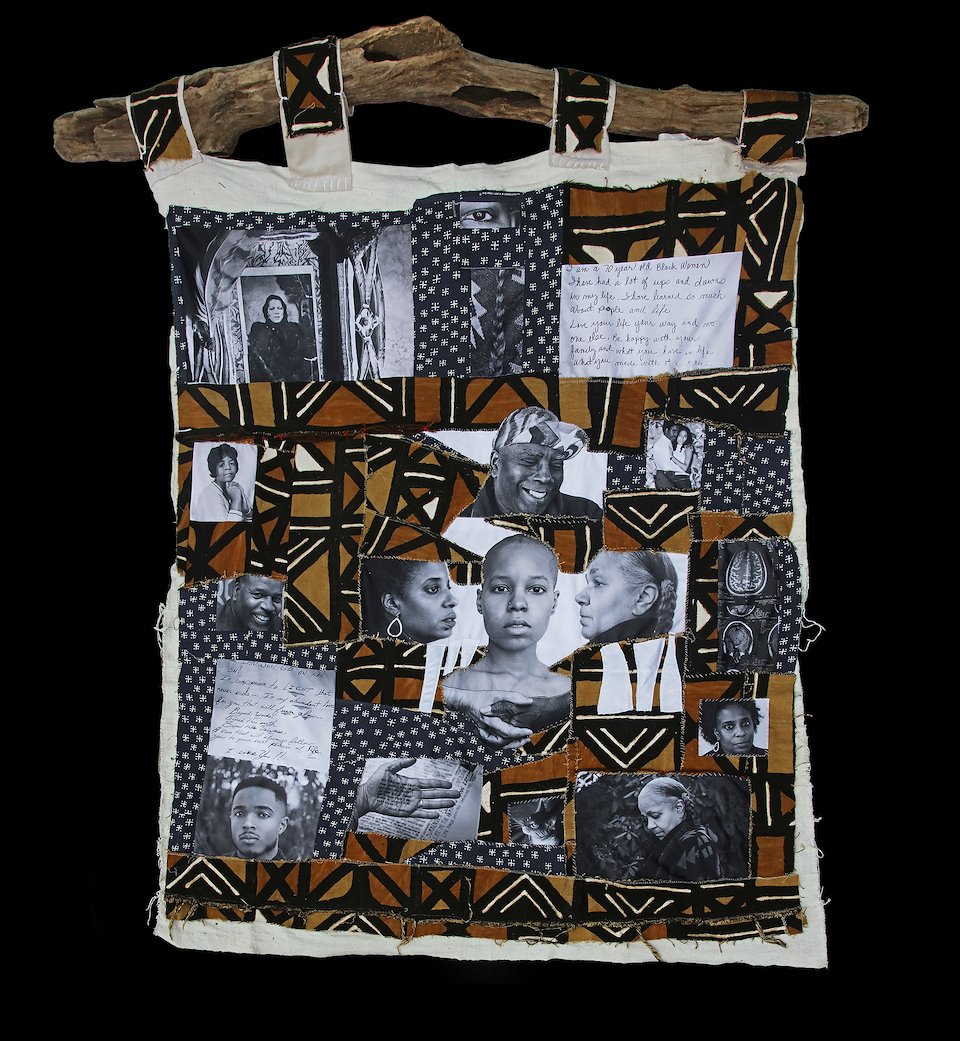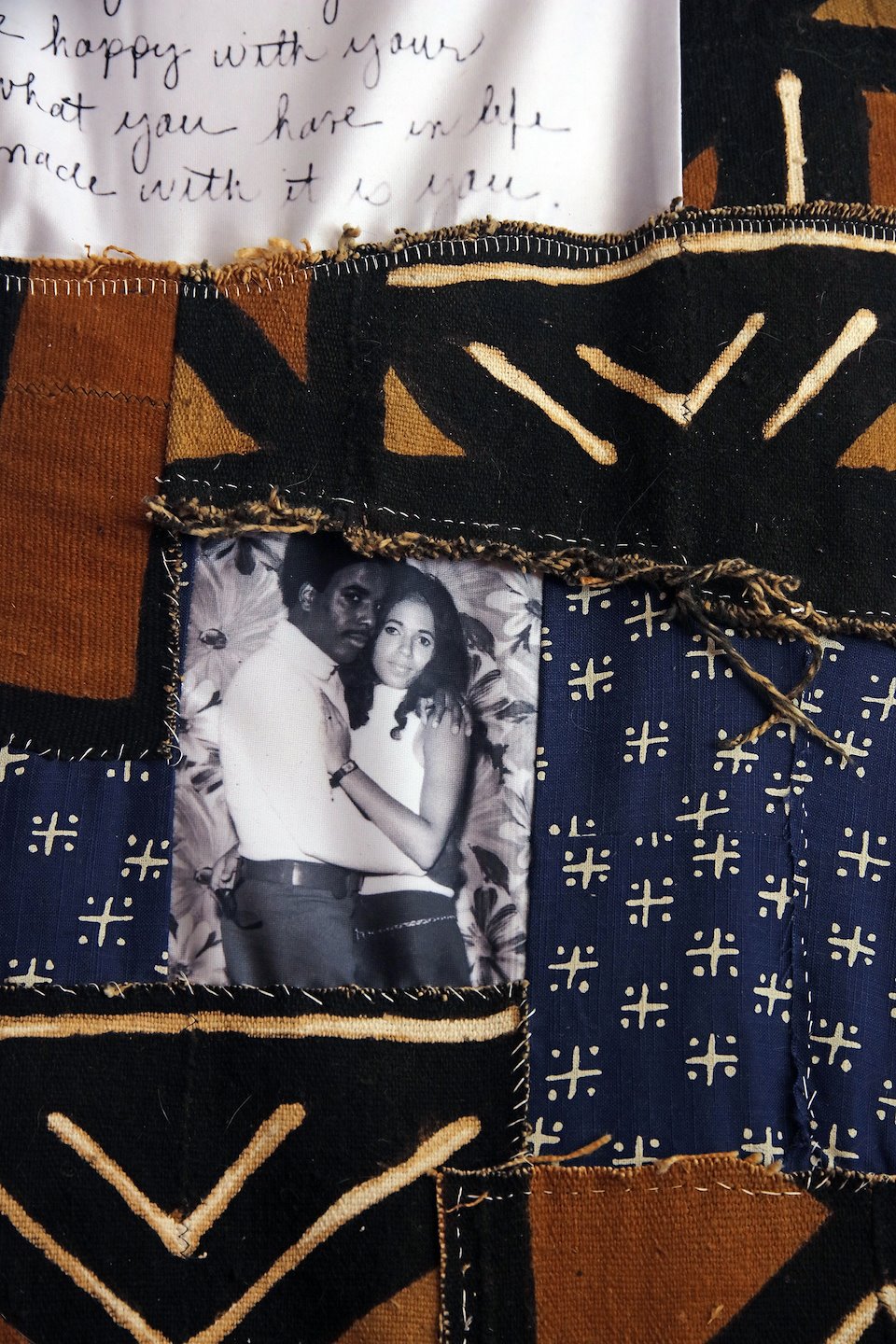 "Genetic Memory" (DETAIL)
(photograph of my Grandparents in 1970, printed on fabric)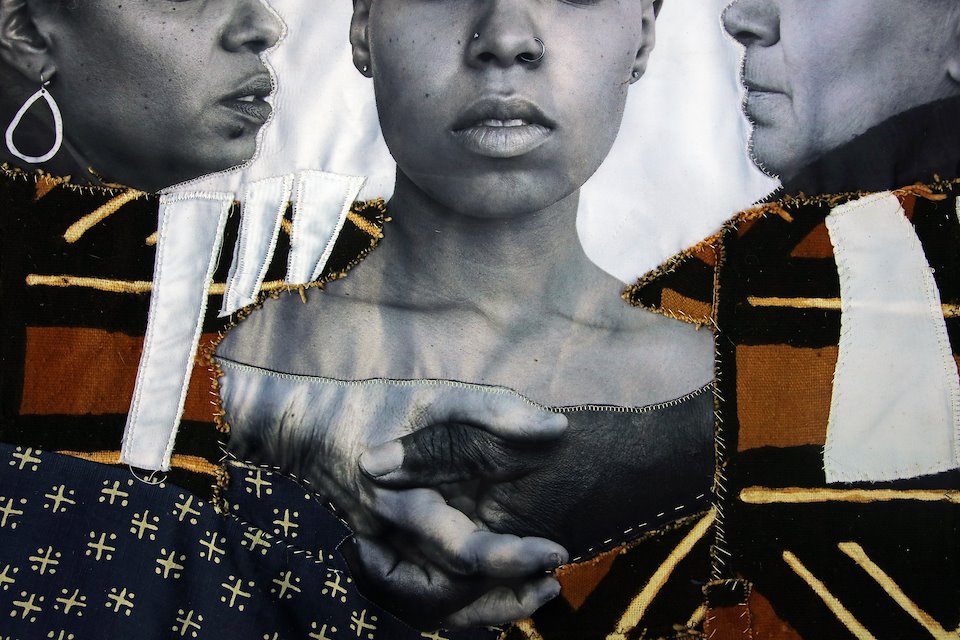 "Genetic Memory" (DETAIL)
My Grandparents hands clasped, with portraits of myself, my Mother and my Grandmother (photographs printed on fabric)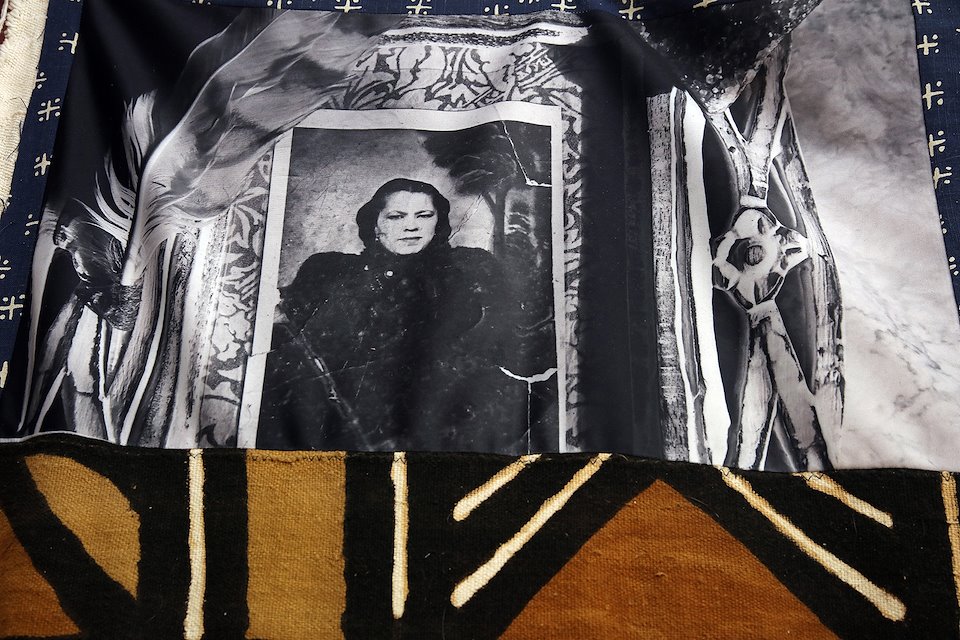 "Genetic Memory" (DETAIL)
(photograph of my Great Grandmother, Josephine, printed on fabric)
"Genetic Memory" Mixed media quilt on driftwood.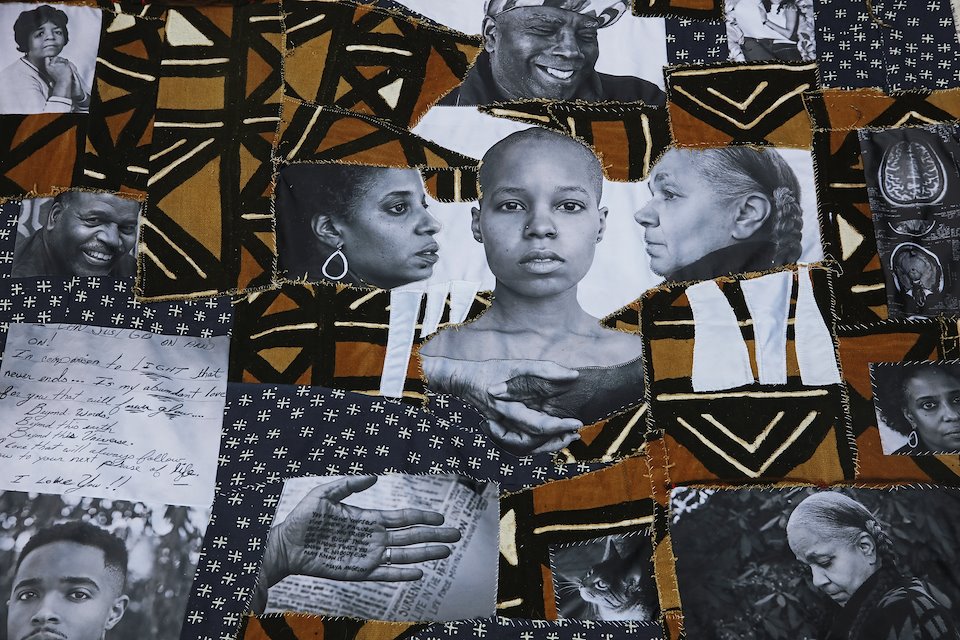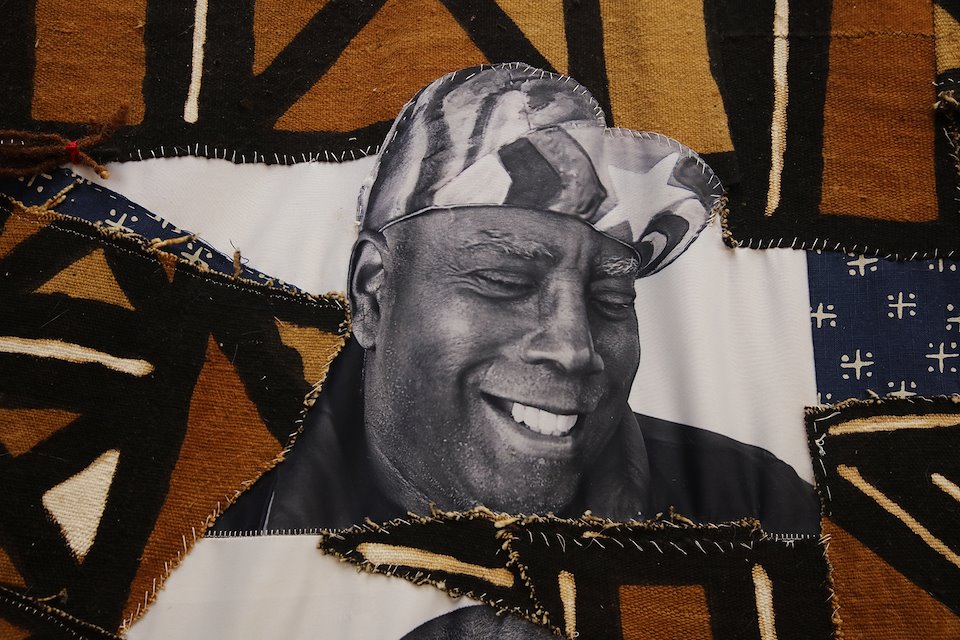 "Genetic Memory" (DETAIL)
(portrait of my Grandfather, printed on fabric; far left: Cut locs from "Grounding Ceremony" sewn onto quilt)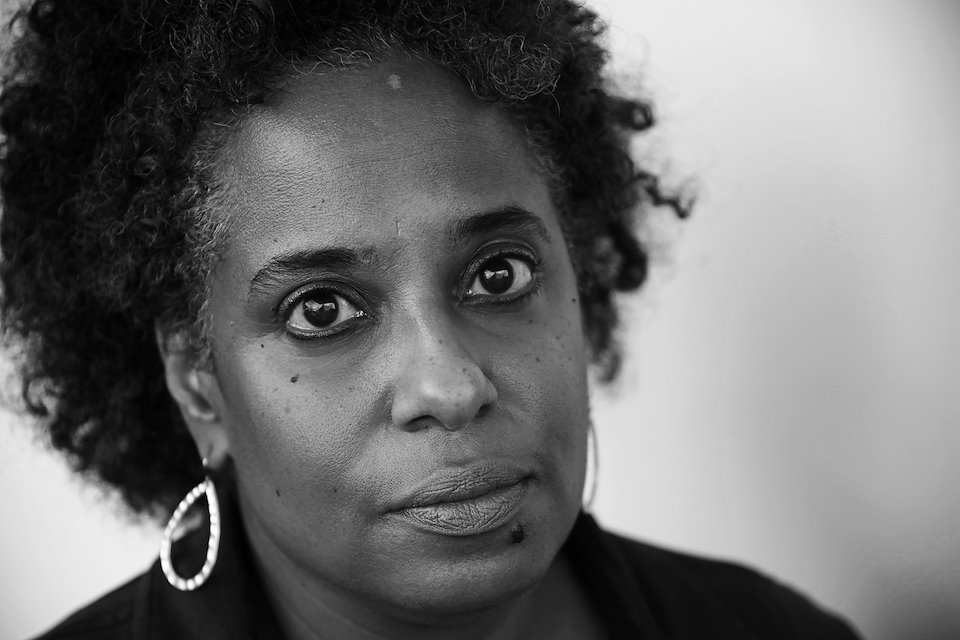 Portrait of my mother for "Genetic Memory" quilt.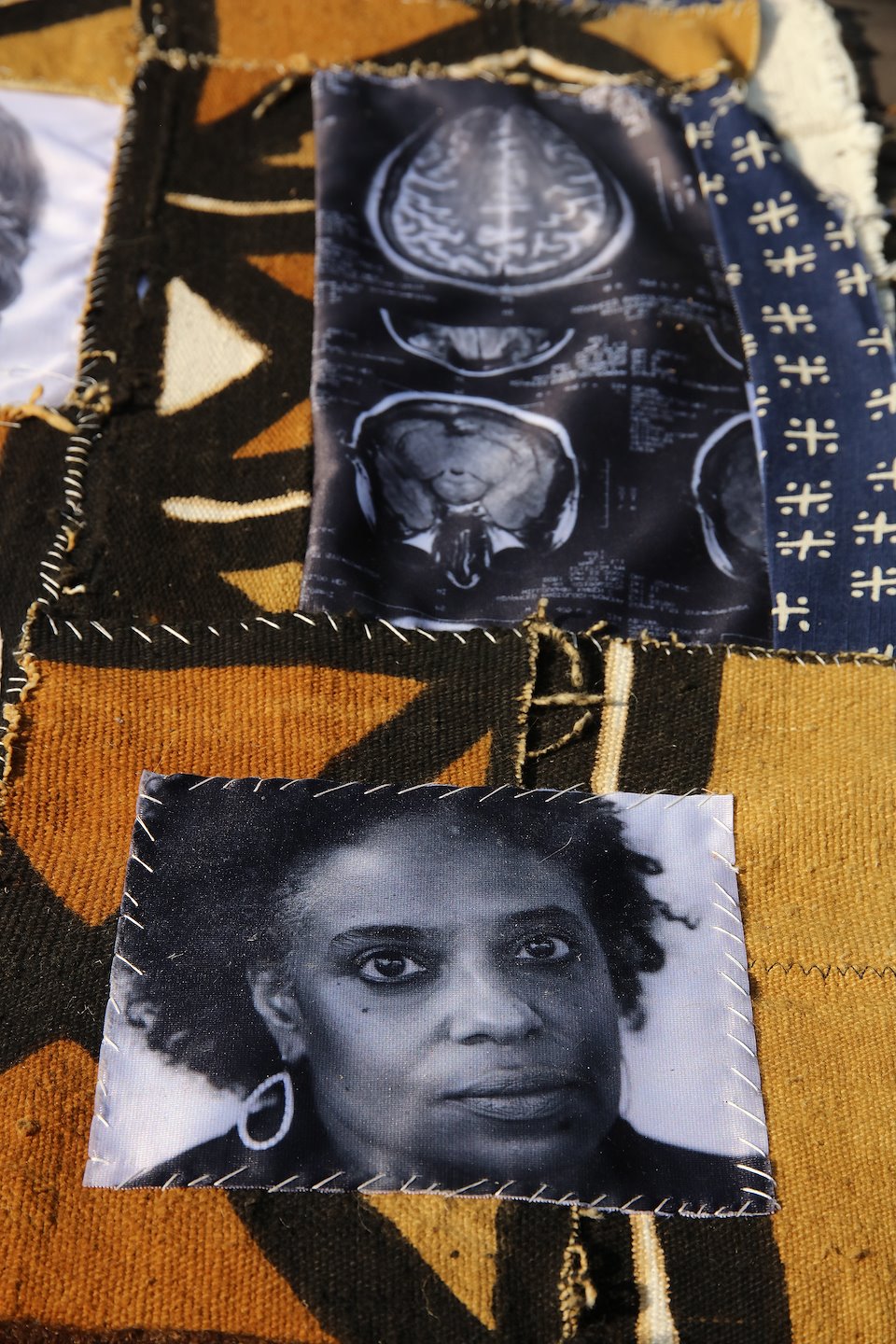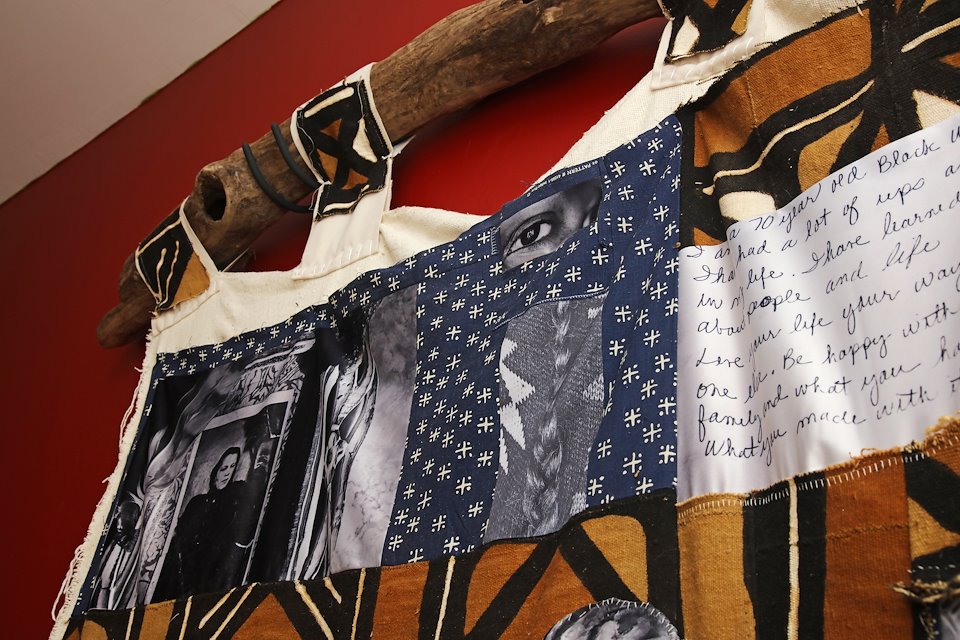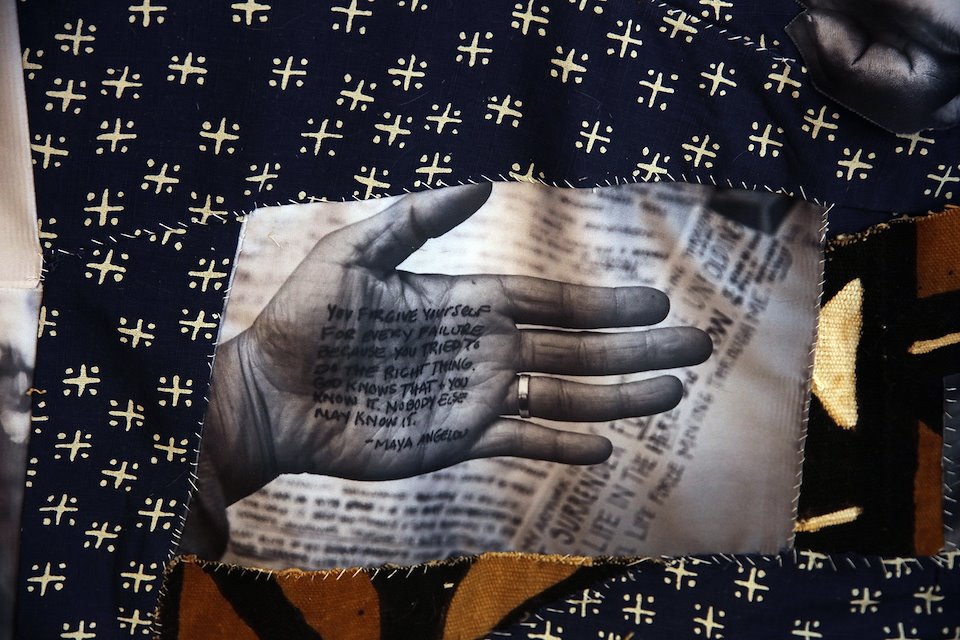 "Genetic Memory" (DETAIL)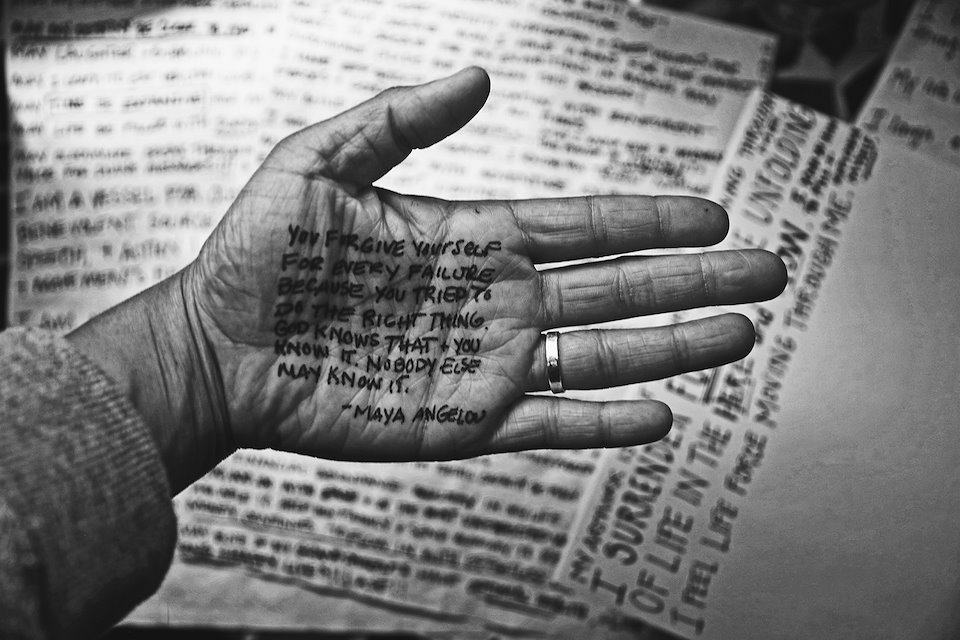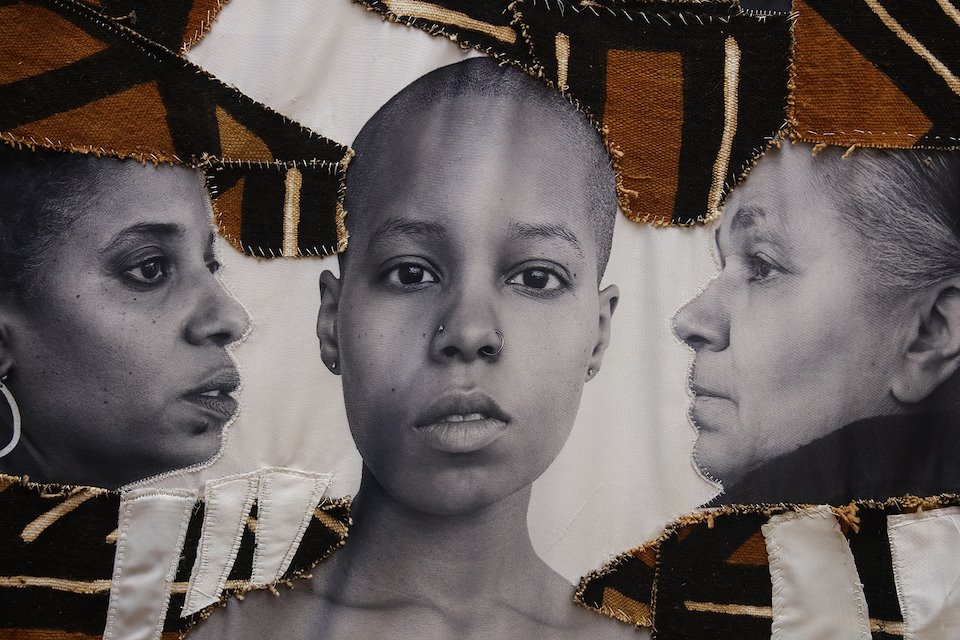 "Genetic Memory" (DETAIL)
Self portrait (center), my Mother (left) and Grandmother (right)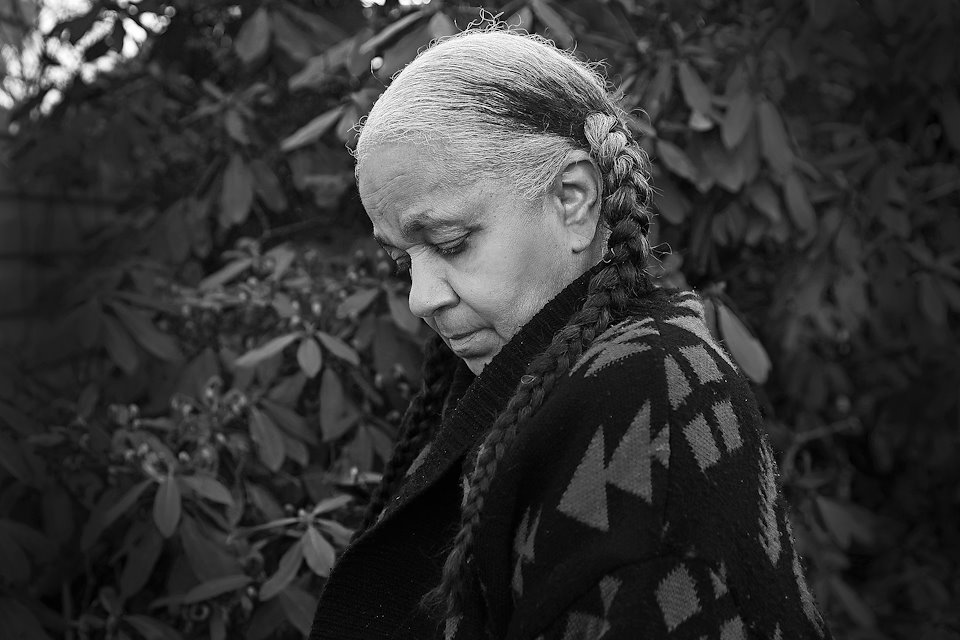 Portrait of my Grandmother for "Genetic Memory" quilt.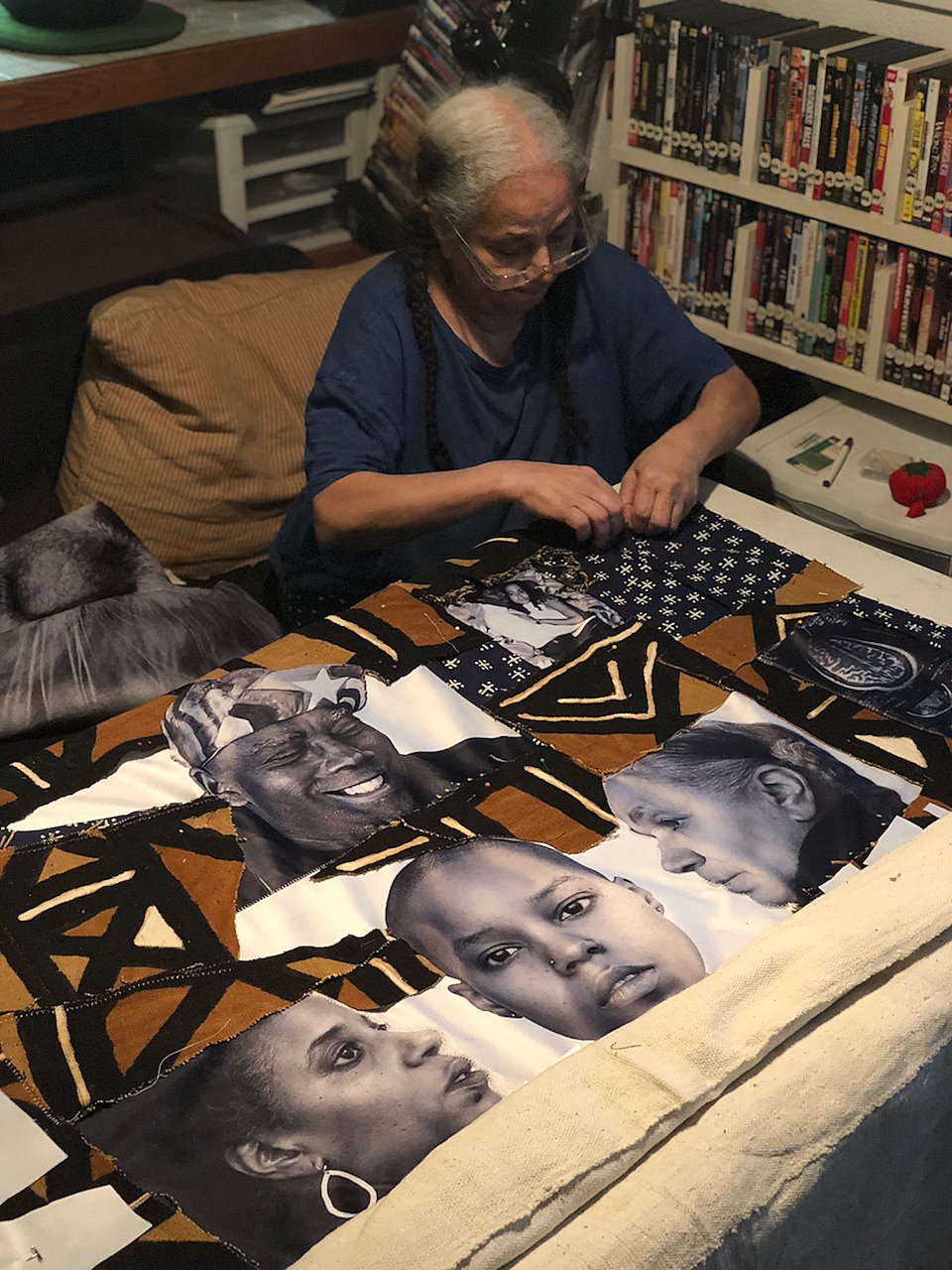 My Grandmother, Cee Cee, sewing the quilt top.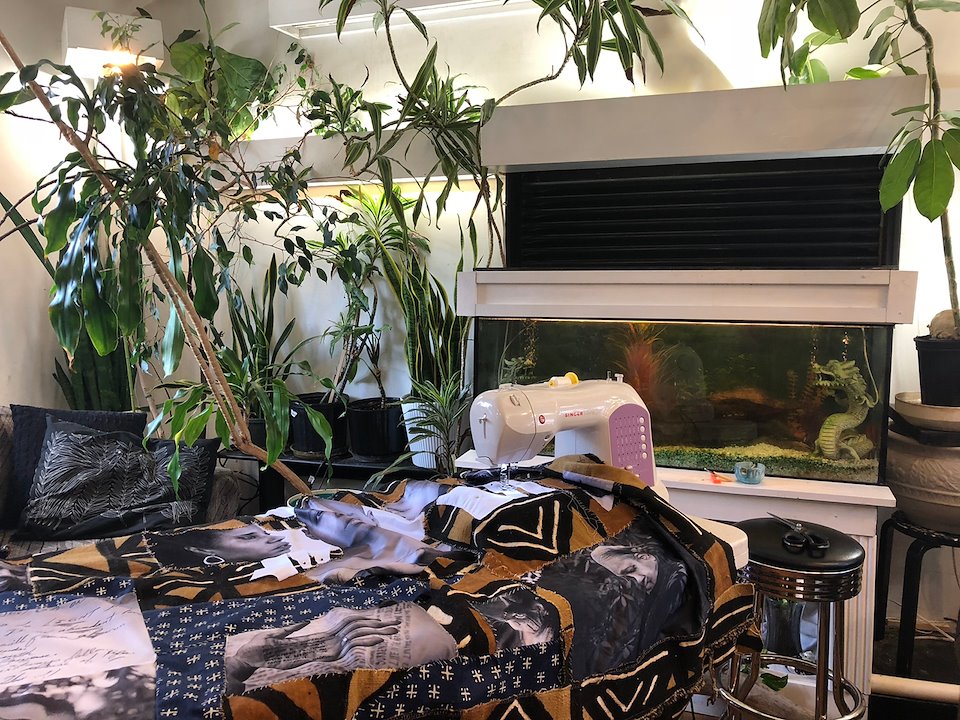 Sewing quilt top at my Grandparent's home.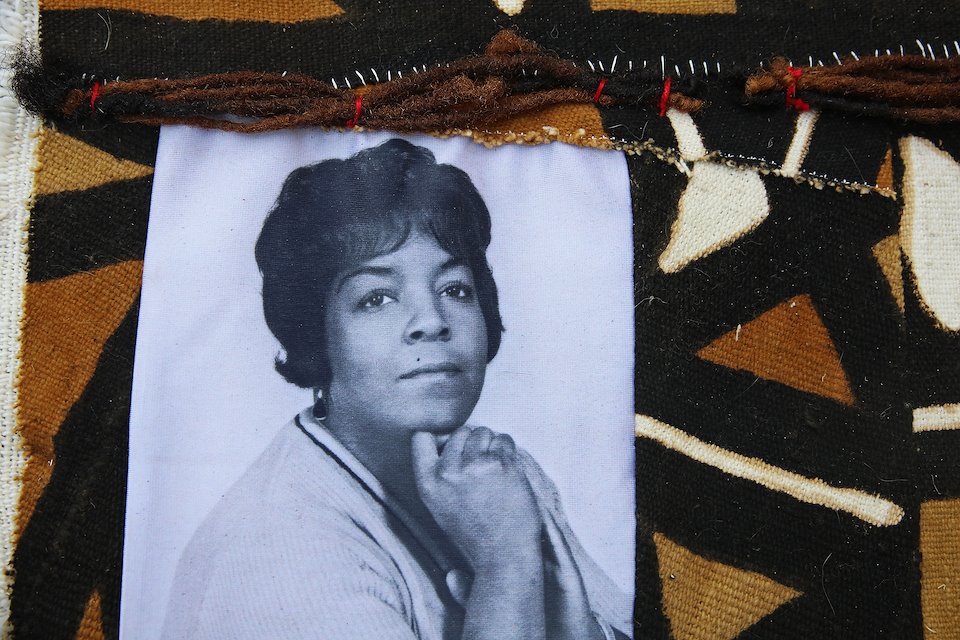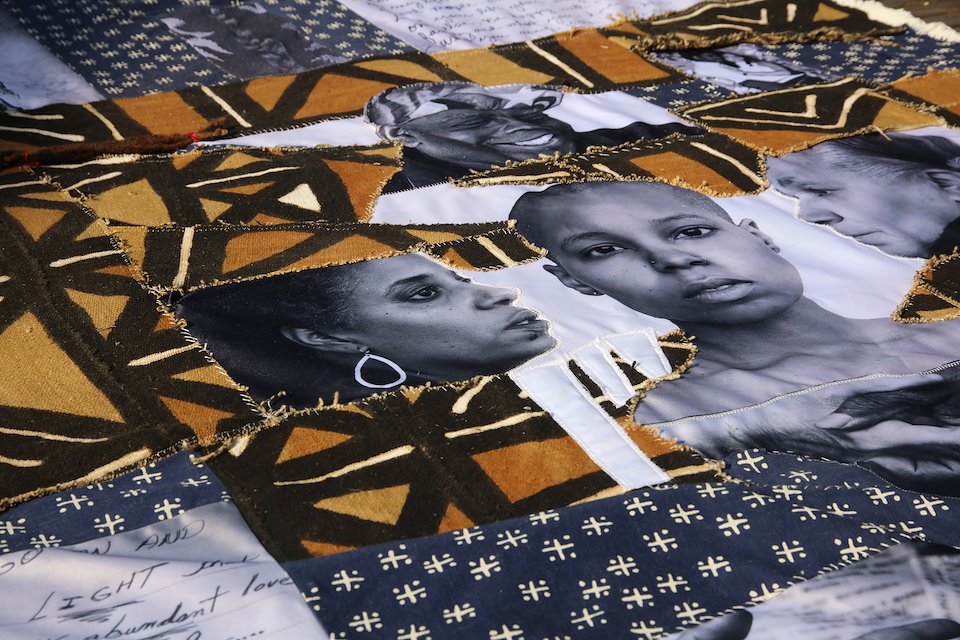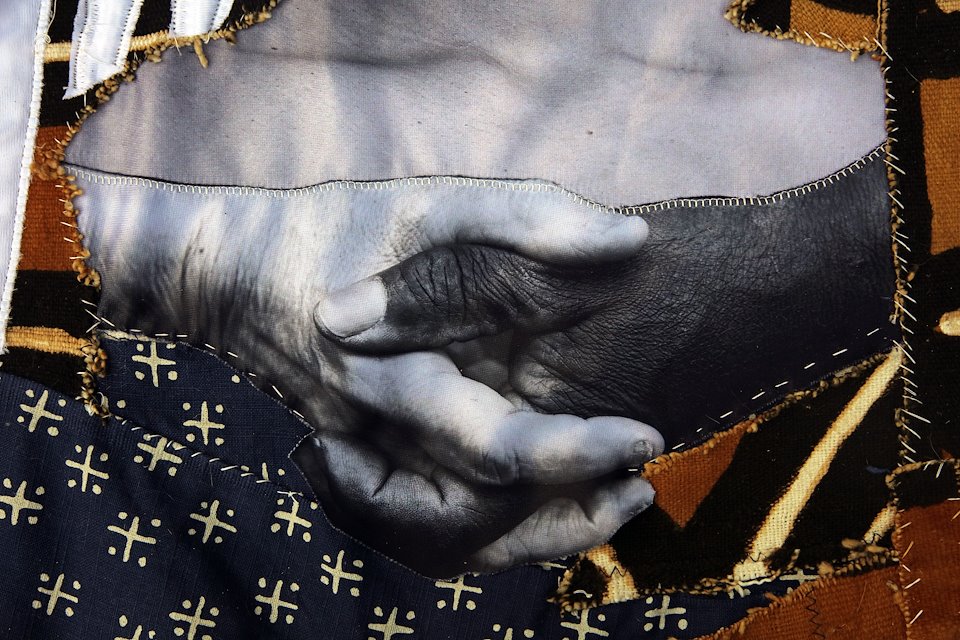 Genetic Memory
"Genetic Memory" (in progress collaboration with my Grandmother, Cee Cee)
6.5ft X7.5ft, Mixed Media Quilt (Photographs printed on fabric, my hair (from "Grounding Ceremony"), My Mother's Brain Scans (MRI), Mudcloth, cotton fabric & batting, hand and machine sewing, hand quilting, scent), April 2018
This (in progress) quilt explores the depth and importance of documenting our own stories while honoring the stories
of our ancestors both known and unknown, many of which reveal themselves through the creative
process.
In this quilt I combine self-portraits, existing family photographs, MRI brain scans of my. Mother's brain and portraits of family that I have taken
with natural fabrics, such as mudcloth and cotton.
When I first taught myself to quilt years ago, my Grandmother was completely on board. She always
enjoyed sewing and made her own hand-sewn garments as a teenager. My Grandparents actually met when my Grandmother was in a sewing class. My Grandmother helped me to create my first 6ft by 7ft quilt commission for the Reginal F. Lewis Museum in 2007. It came extremely naturally for both of us, and I later learned that my Grandmother's Mother, Josephine, had been a
quilter and had created a few quilts in her lifetime.
There are also influences in this quilt from the women of Gee's bend. I have been deeply inspired by
these women and their quilts. I believe I may have some ancestral connection there as well, especially considering my last name.
Through this quilt I explore family histories, even with all of the missing pieces. I explore the beauty in incompletion and document my own inner journey in understanding impermanence, surrender, death, fluidity, and the infiniteness of the Self as it connects to the interwoven fabric of the cosmos.
| | |
| --- | --- |
| For | In progress collaboration with my Grandmother |
| Date | April 2018 |
| Exhibition | "BLACKBIRD", curated by Alexis Dixon |