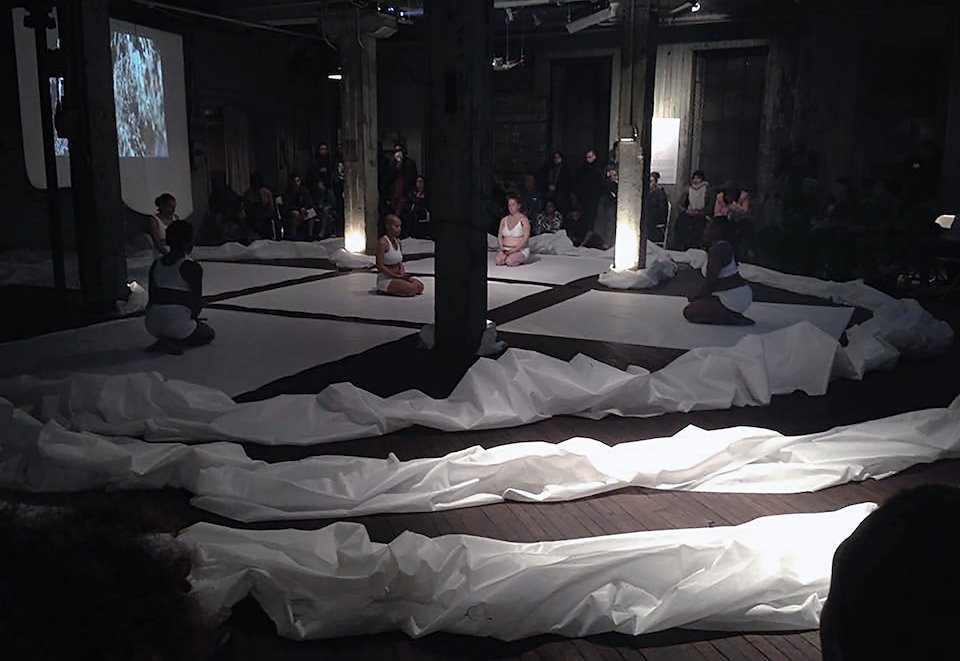 INTREPID II [Group Performance]
December 6, 2015; performed inside of "Breaking Open" installation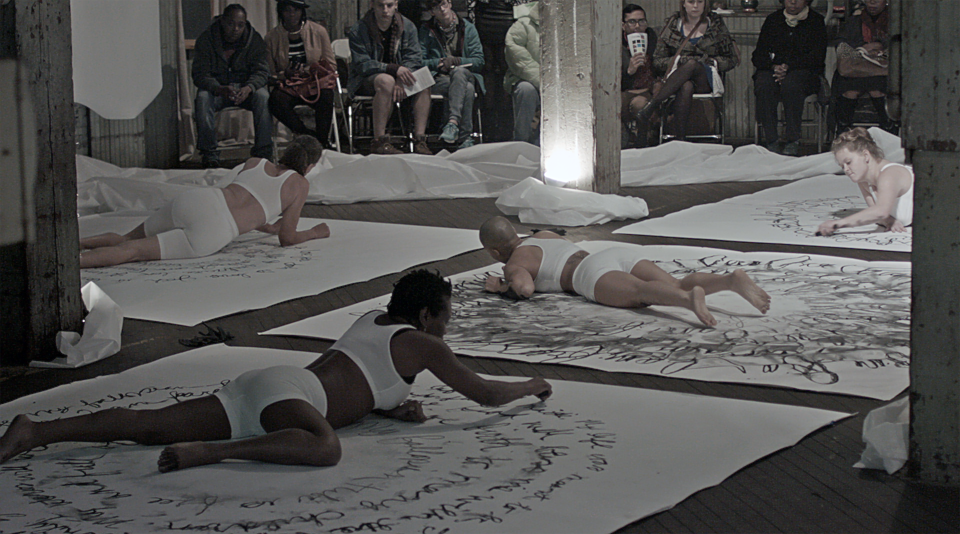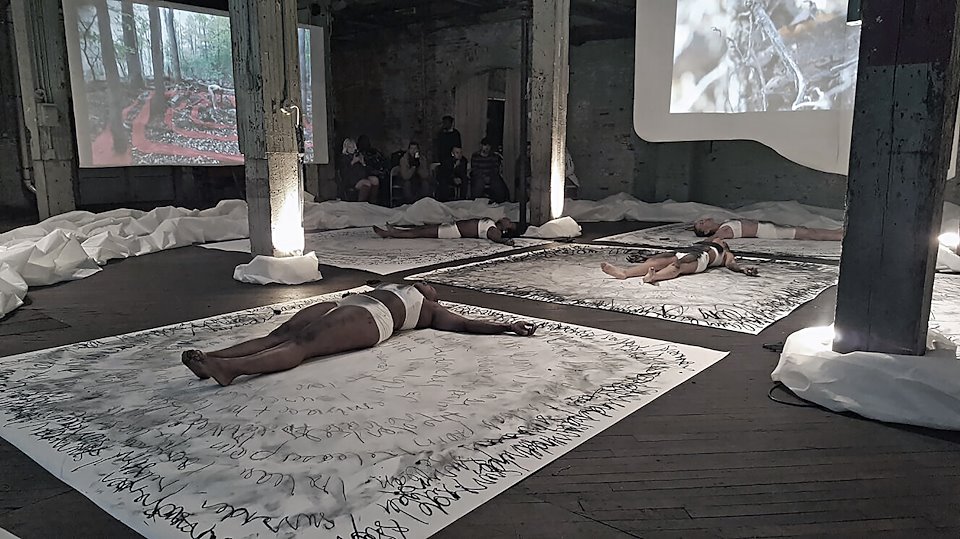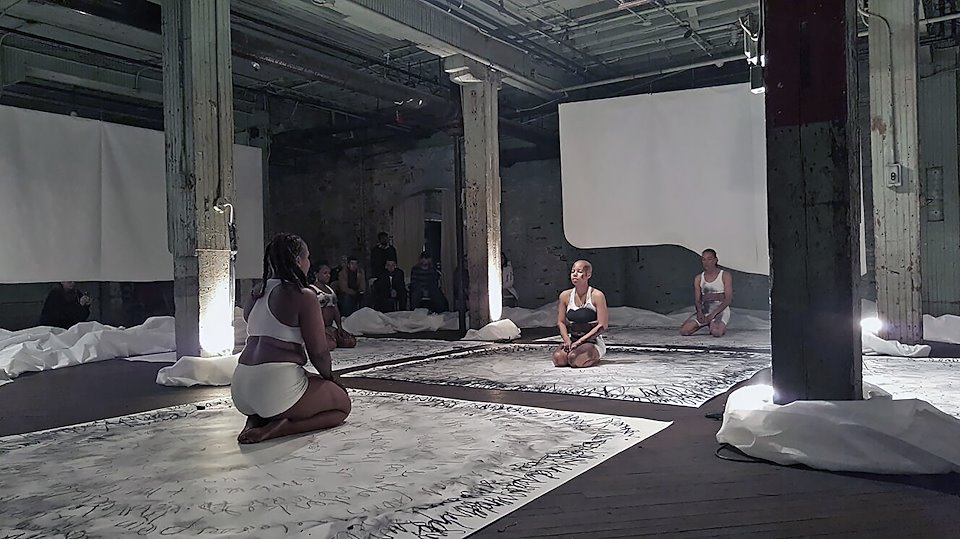 3:10min EXCERPT; INTREPID II performed inside of "Breaking Open" installation.
Layered voiceovers featured in video documentation are shared and spoken by Natalie Stewart, Kriss Mincey, Amber Carroll Santibanez, Missy Smith, Denitra Isler, Anna Davis, and Ashley Williams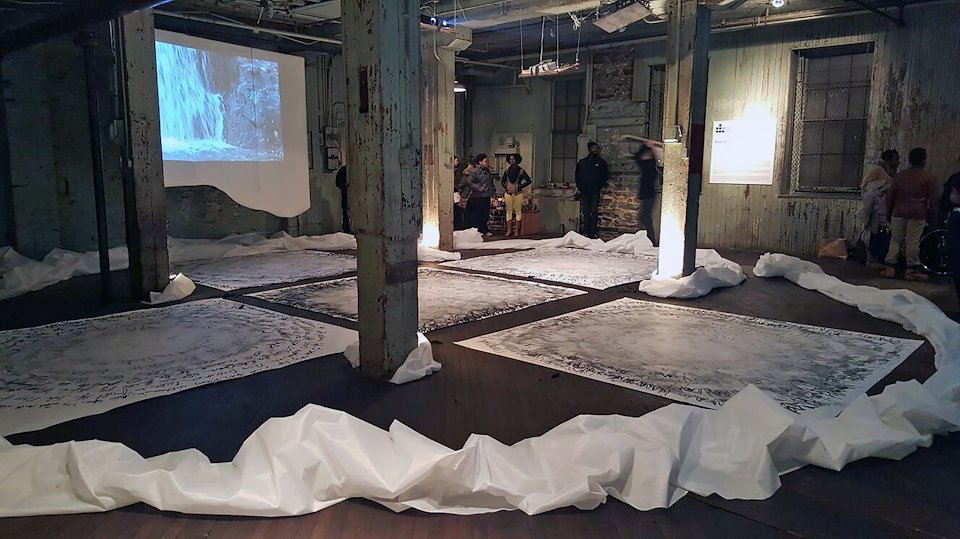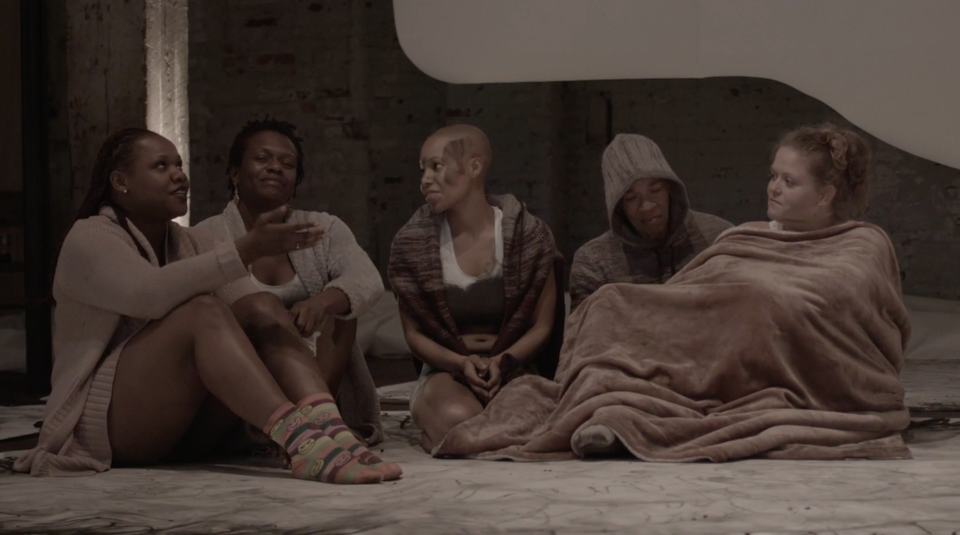 INTREPID II [Group Ritual Performance] performed by: Phylicia Ghee, Cheryl Ashley, Catrina Caldwell, Karene Bland, and Karla Benedict
INTREPID II
"INTREPID II" [Group Performance inside of "Breaking Open" installation]
Performed by: Phylicia Ghee, Cheryl Ashley, Catrina Caldwell, Karene McLaurin & Karla Benedict.
3:10 min EXCERPT from 20:32 min video documentation of ritual performance
Dedicated to Karla Benedict & Anna Davis, with love & sisterhood
— Special Thank You to those who contributed to the Sound with Audio recordings of personal stories: Natalie Stewart, Amber Carroll Santibanez, Ashley Williams, Anna Davis, Caelyn Sommerville, Cee Cee Ghee (Grandmother), Ghee (Grandfather), Denitra Isler, Karen Ghee (Mother), Kriss Mincey, Missy Smith, Joy Vass, Jamaal Collier & Morgan Baker
—————
I performed INTREPID II with four women. Three of whom were in early recovery for addiction. All of us dealing with varying levels of mental health challenges.
INTREPID II was my first time sharing ritual performance collaboratively in this way. This was really life changing. We all influenced each other's healing and spiritual evolution. My journey with these four amazing women has continually informed and influenced the way I've lived my life since; the sensitivity & compassion I have for those journeying beside me. We are all one, connected through the most pure and indestructible parts of ourselves.
We continue to keep in contact. Karene & Cheryl successfully completed their recovery programs. Karene now works in the recovery field and is doing amazing.
One of the women; Karla Benedict, sadly passed away less than a month after we shared this ritual together. Needless to say, it was heartbreaking. A lot of grieving had to take place after this experience. I gave her 9X9' work to her family to keep. Later on I noticed that in her spiral she wrote repeatedly: "I am at peace, I am at peace, I am at peace, I am at peace…" all the way out to the edges of the paper.
. . . .
"Every overgrown passion (including addiction and cravings), aggression, and signs of ignorance (including denial and the tendency to shut down or close out) is a seed for inner peace, compassion and openness…Our teacher is not separate from our own experience. My realization is that my fullest potential is here. This is the seed, and the full grown tree, this is where the work is done, on the ground level, this is where acceptance is stepped into… This place of pain, the charnel ground is the working basis for attaining enlightenment."
~ Pema Chodron
—
"Emerging interdisciplinary artist, visual artist, and photographer, Phylicia Ghee, engages "ritual performance" as a healing modality for herself, her ancestors, and unrelated women to grapple with histories of cellular and experiential trauma.
By weighting the word "performance" with the preface "ritual", Ghee not only establishes her process and the documentation of her process as something more than performative, but she also offers a critical assessment and framing for her work as an active, community-centered practice. The spaces she occupies and the histories she channels center Black experience, draw from African diasporic spiritual systems and assert intuition as an essential feature of her artistic process." ~ Angela N. Carroll for BLACK ART IN AMERICA
— Decolonizing Performance Art: Phylicia Ghee Uses Ritual Performance to Heal the Generational Trauma of Black Women:
https://www.blackartinamerica.com/index.php/2019/10/23/decolonizing-performance-art-phylicia-ghee-uses-ritual-performance-to-heal-the-generational-trauma-of-black-women/
| | |
| --- | --- |
| Date | December 6, 2015 |
| Video Documentation | Jimmy Powell |