Recorded Walk-Through of 2020 Sondheim Finalist Exhibition ~

To experience this virtual exhibition, self-guided: https://artspaces.kunstmatrix.com/en/exhibition/1260335/phylicia-ghee-2020-janet-walter-sondheim-artscape-finalist-exhibition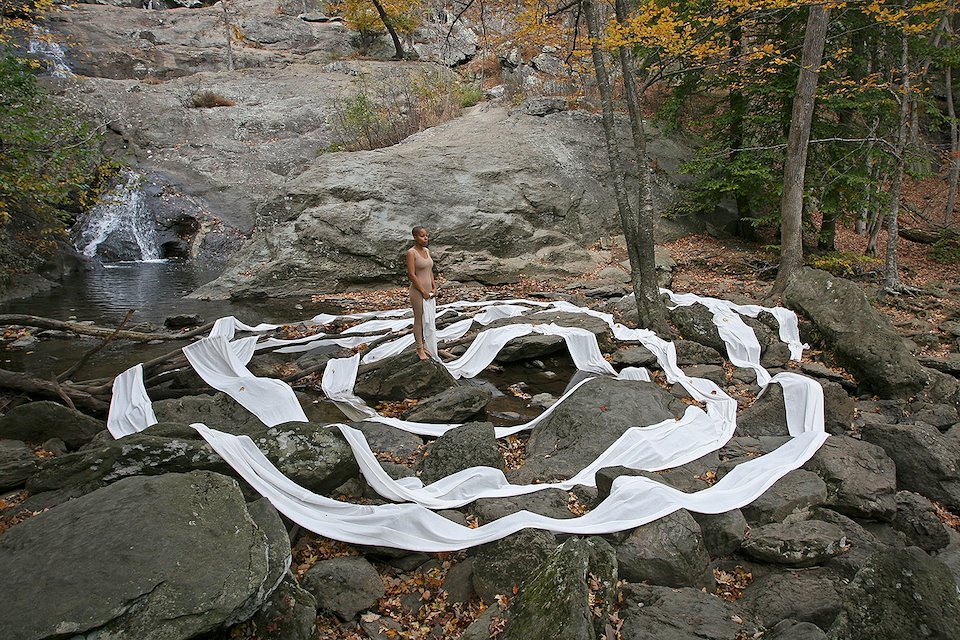 Photo documentation of endurance performance work "Breaking Open"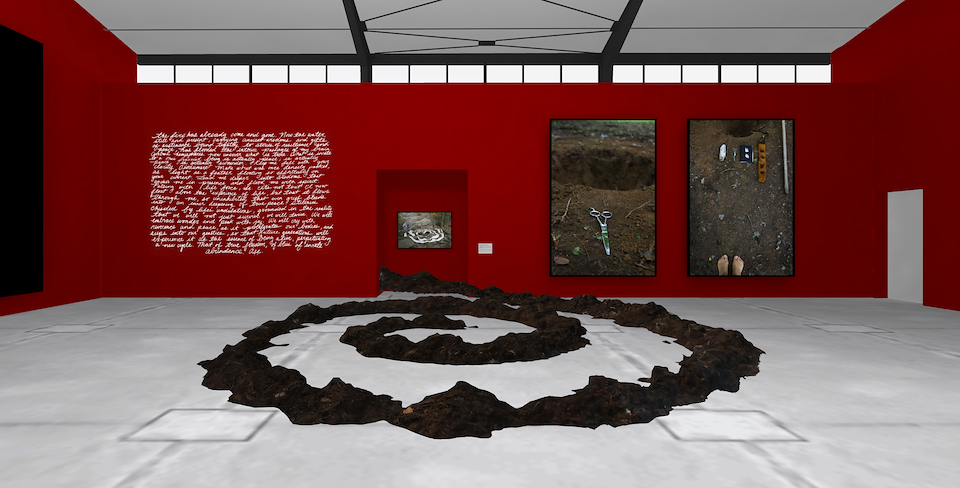 "The Immeasurable Truth" June 2020, Installation (Compost from my Grandfather's Garden & Sea Salt - built out in real life, then 3D scanned into the virtual exhibition space)
"Grandma; I am accused of tending to the past", Portrait of my Grandmother installed in exhibition space, above a poem by Lucille Clifton, for which the work is named.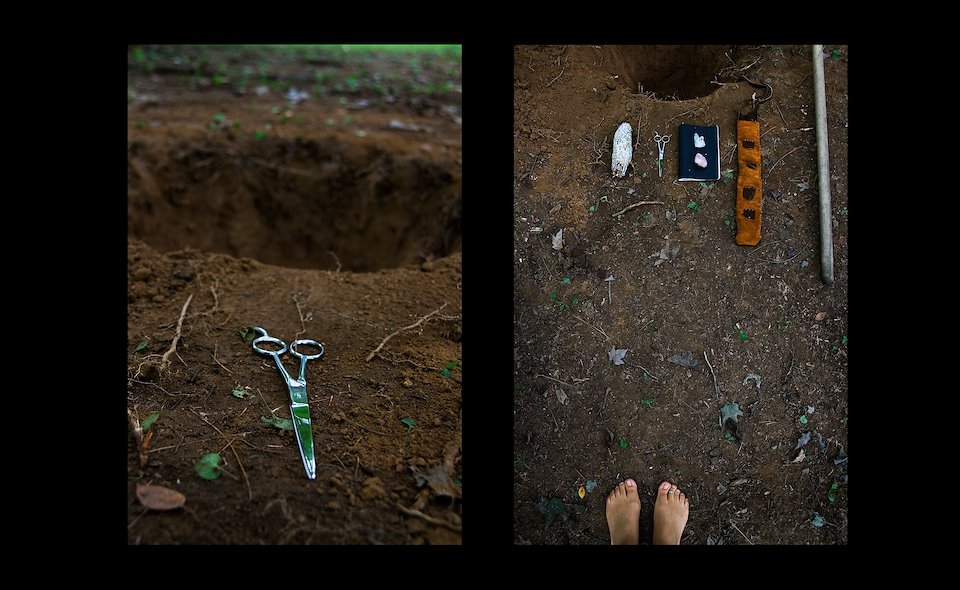 "Grounding Ceremony" Photo documentation of ritual performance.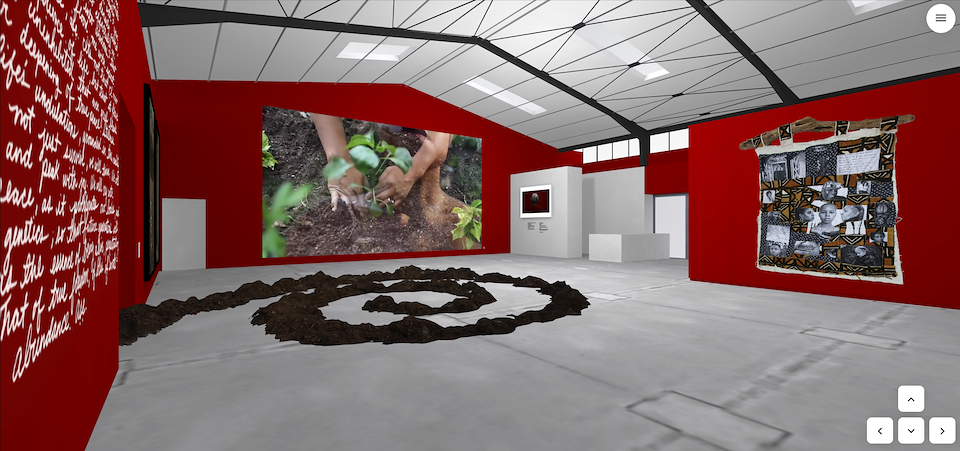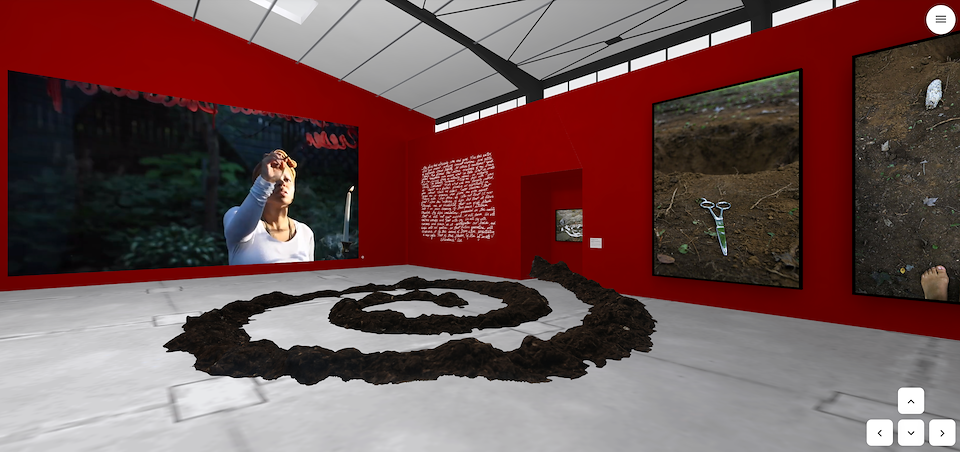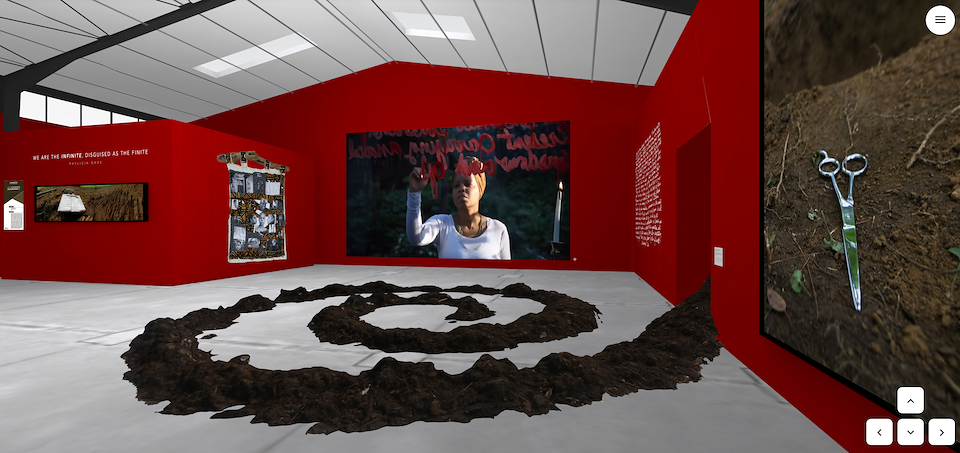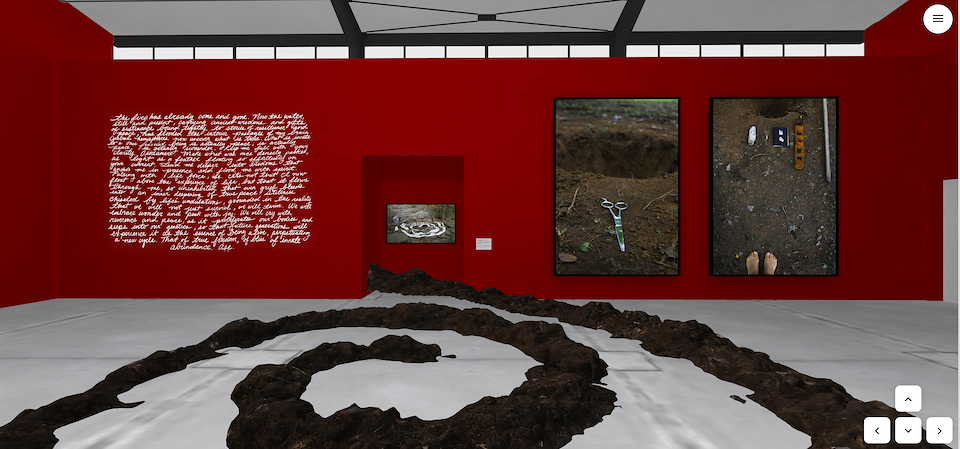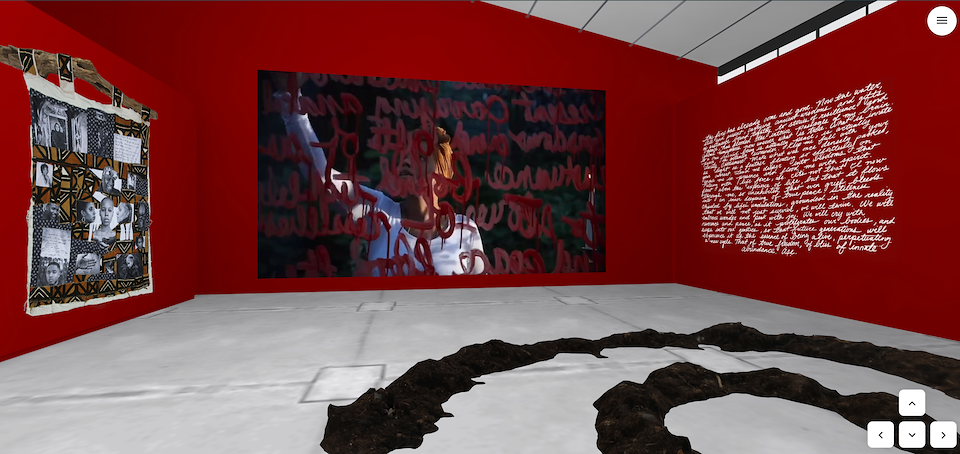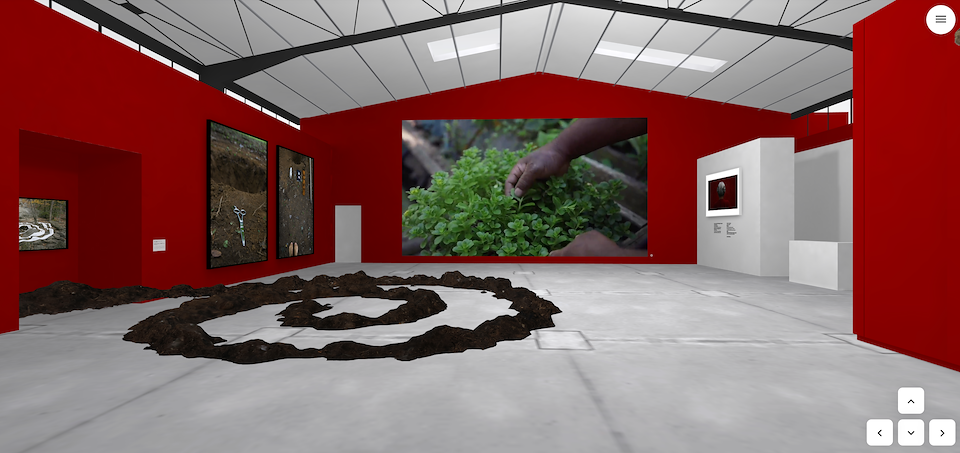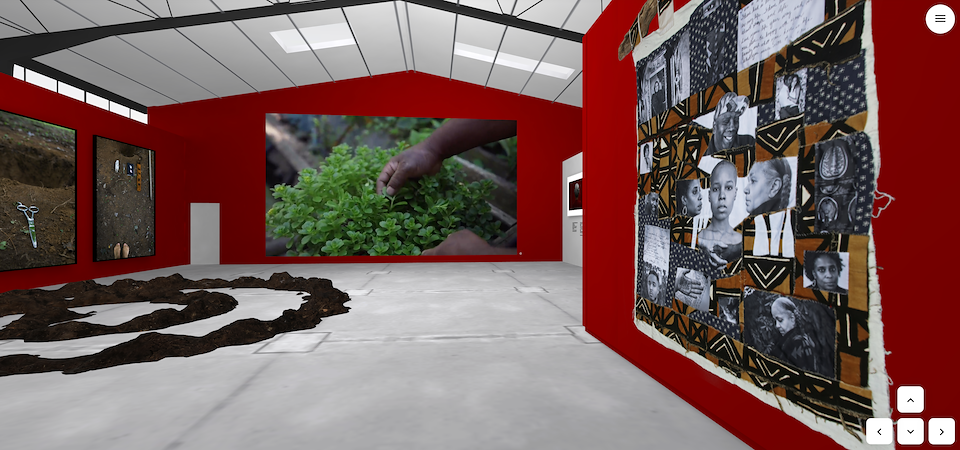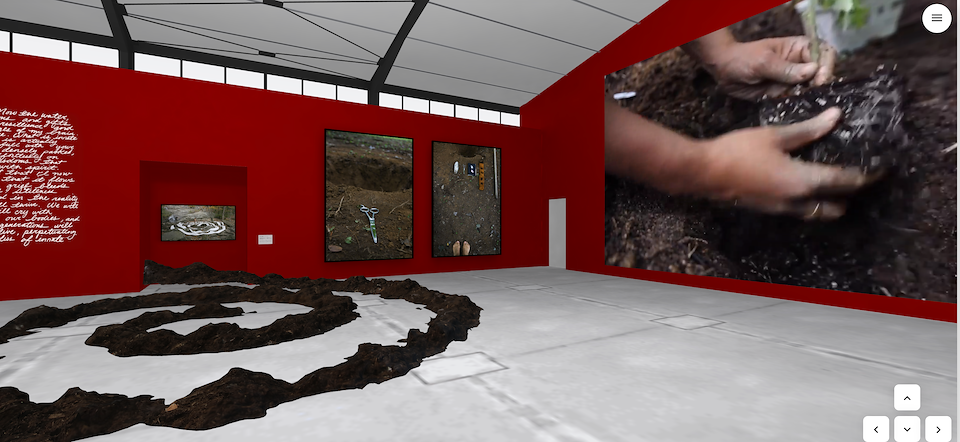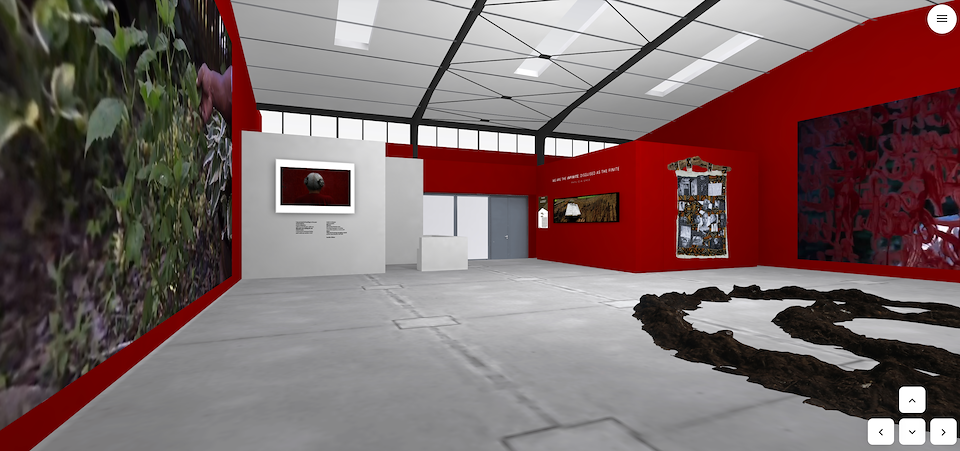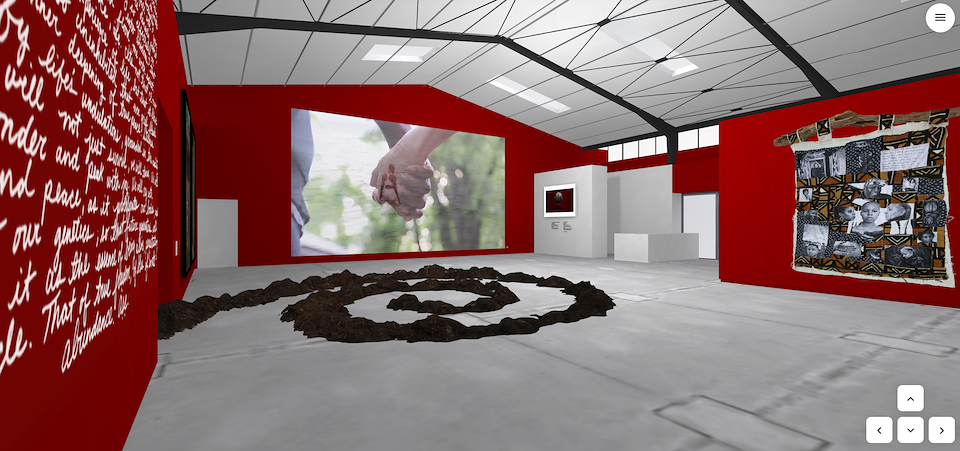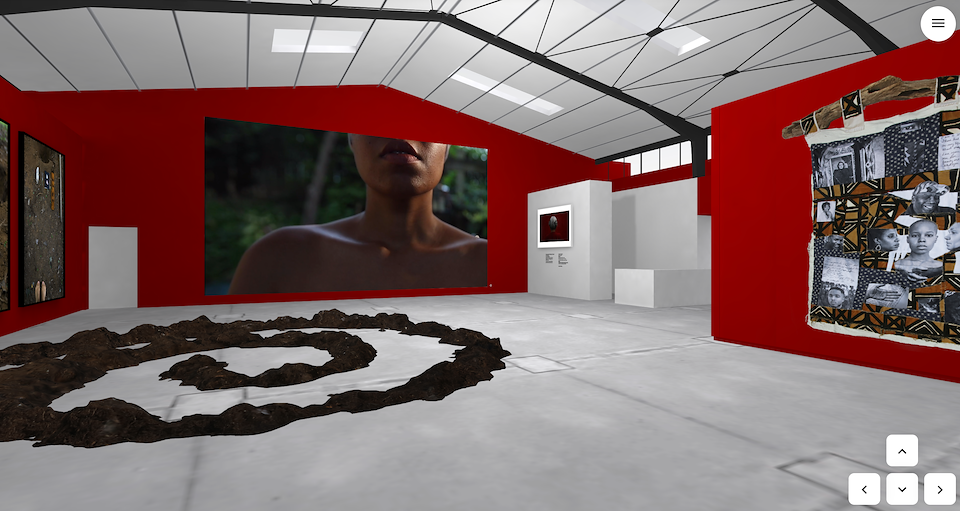 WE ARE THE INFINITE, DISGUISED AS THE FINITE.
"WE ARE THE INFINITE, DISGUISED AS THE FINITE"
July 6, 2020 – Ongoing
Experience this virtual exhibition, self-guided: https://artspaces.kunstmatrix.com/en/exhibition/1260335/phylicia-ghee-2020-janet-walter-sondheim-artscape-finalist-exhibition
This exhibition is an exploration in both grief and self-directed healing. It all evolved from a desire to see liberation for black lives. To see us healing and thriving; to honor those we have lost. The energy of transition and death is definitely present in the space, but it is in conversation with this idea of windows and portals. For me, the video works on the two opposite walls, "The Site of Memory" and "8:46" function like windows into moments from my life. Most of those moments were documented during this pandemic period; gardening with my Grandfather, paying reverence to my ancestors, writing prayers for my mother, making herbal remedies, exploring how I care for myself and how we care for one another during these deep challenges and moments of grief and bereavement.
The large-scale earth spiral "The Immeasurable Truth", made of sea salt and compost from my Grandfather's garden — which he made with dried leaves from this past Fall — appears to flow in or out of the alcove in the center of the room. This is to reference the veil between worlds; the physical and the spiritual. It's not evident whether the spiral is going or coming. This simultaneous ebb and flow, this collapsing of time and space, to me, is like a complex poetry representing the lives and the unknown truths of history living in the soil and in the sea; making manifestation both in this realm and beyond. So it's not so much a question of living or dying, but of traversing physical, psychological and spiritual realms; and living on through re-memory with a cyclical understanding of life. In this space I wanted to be able to touch on the inter-dimensionality and spiritual power of black lives, and to honor black, brown and indigenous lives ripped from us by the continual violences committed against us, both presently and historically.
"WE ARE THE INFINITE, DISGUISED AS THE FINITE". This title functions as a declaratory statement, a reclamation and a threat. In other words, you cannot kill us or erase us; you cannot silence us, we are infinite, we will thrive.
I share various photographs documenting a rite of passage and hair cutting ceremony entitled "Grounding Ceremony" in addition to a mixed media (in-progress) quilt & collaboration with my Grandmother entitled "Genetic Memory" . My hair, which I cut during "Grounding Ceremony" ( and its seen laying on the earth beside me in the panoramic photograph on the left as you first walk into the space) is sewn into the quilt (7 years later) amongst photographs of my family and my mother's brain scans printed on fabric, framed by Bògòlanfini and hung on drift wood. This demonstrates how narratives, materials & elements continue over various works, sometimes spanning years.
I created five new works for this exhibition. One of my favorite moments in the exhibition is a photo I took of my Grandmother, called "Grandma" . It's situated above a poem by Lucille Clifton entitled, "I am accused of tending to the past." This makes me think of my lineage and of black women being at the forefront of tending to falsified histories and constant erasures, but remaining strong in the midst of challenges sprouting from seeds they did not plant.
A Peek Into My Process:
I had to change my thinking and process entirely to work with this virtual space. I wanted to create a space that felt like someplace you could visit in reality. A space that traversed various mediums as a way to explore what sensory exploration was possible in a virtual environment.
I envisioned this large spiral coming out of it, or going into this alcove in the exhibition space. I had to begin to explore how I would bring a three-dimensional installation into this digital space. Since I have no experience with 3-D design, this involved a ton of research and tutorials. Ultimately I ended up building out the spiral in real life using compost from my grandfathers garden with sea salt. Over a total of about 25 hours, potentially more (13 hr of trial and error; 12hr of actually making progress on the piece) I photographed the earth spiral from all angles, then I taught myself to 3D scan the work and use 3D modeling programs to prepare it to go into the space.
More about Sondheim, and my experience creating this virtual exhibition, published online at BmoreArt:
The 2020 Sondheim Prize Finalists: Limitations and strategies for art prizes and digital exhibitions during a global pandemic ~ https://bmoreart.com/2020/07/the-2020-sondheim-prize-finalists.html